Since 1986, I have specialized in over-the-shoulder, on location,
field-audio mixing / recording for network broadcast television, film, and video productions.
Clients Include:
PBS 'Nova,' 'American Experience,' 'Nature'; 'Ken Burns';
National Geographic; ABC; BBC; CBS; ESPN; NBC 'Dateline'; The Discovery Channel; The Learning Channel; Animal Planet; The Travel Channel; HGTV; The Food Network - among many others.
Credit Profile: IMDB - Jim Gallup
Project Spotlight: Blogspot - Jim Gallup
Fully owned, fully rigged over-the-shoulder audio packages
for - Multi camera, multi format projects.
Timecode based 'double-system' multi-track recording,
with wireless audio 'hops' -
for - All HD Video camera systems, and DSLR workflow:
Sound Devices 552 ⋅ 302 ⋅ Mix-pre; Cooper cs104
Sound Devices 788T ⋅ 744T ⋅ 633
Lectrosonics 411a ⋅ 210d ⋅ 195 ⋅ SRa - 8 units.
Schoeps MK41
Sennheiser MKH50 ⋅ MKH 60 - on 8' to 16' poles.
Lectrosonics audio 'hops' to multi camera - w/ various mounts.
Sennheiser G3 audio 'hops' to multi DSLR - w/ acc. shoe mounts.
Zaxcom IFB200 / ERX2-TCD timecode 'hops' to multi camera - w/ various mounts.
Denecke TS-C ⋅ TS-3 timecode slates.
Lectrosonics wireless headsets / IFB.
MP3 audio timecode transcripts - w/ FTP upload.
Peter Engh wireless 'plant' mics; Sanken cub-01
Peter Engh Quick Release cable systems / interface products.
I have been a resident of the Albuquerque / Santa Fe area since 1997.
I am familiar with the scientific, military, cultural, and natural wonders of New Mexico and the greater Southwest region.
I look forward to discussing your production sound recording needs.

Sincerely,
Jim Gallup
A Respected Member of the New Mexico Film Community for over 15 years.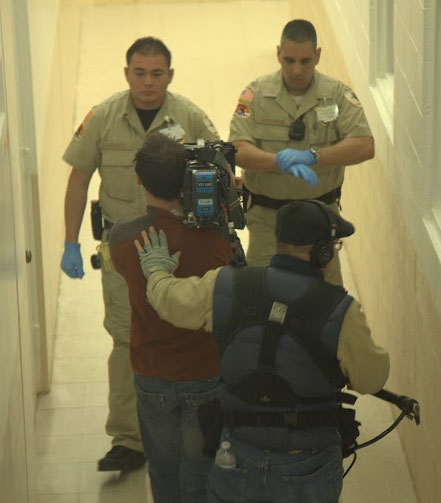 Working on Discovery Channel's "Inside Death Row."
I'm at the New Mexico State Penitentiary with cameraman Craig Hastings.
Photo courtesy of Artu Arin.

Jim Gallup
P.O. Box 624
Tijeras, NM 87059

office (505) 286 - 8943
mobile (505) 321 - 9162
www.newmexicosoundrecordist.com

Non-union.
Non-smoker.
Seasoned traveler.
Professional sound guy.
Over-the-Shoulder Bag-work.
NOT interested in LO / NO / Deferred rates.
26+ years of on-location documentary sound-for-picture experience.
NOT interested in mixing for feature films, indies, or long-form narratives for episodic television.
Serving the following cities & locations in New Mexico, and the greater Southwest region:
Alamogordo (Holloman AFB), Albuquerque (Kirtland AFB; Sandia National Laboratory), Angel Fire, Artesia, Aztec, Bloomfield, Carlsbad (Carlsbad Caverns complex), Chama, Clayton, Cloudcroft, Clovis(Cannon AFB), Cuba, Deming, Farmington (Chaco Canyon), Gallup (The Navajo Nation; The Hopi Nation; Canyon De Chelly), Grants (El Malpais; El Morro / Inscription Rock; Ice Cave & Bandera Volcano), Hobbs, Las Cruces (NASA WhiteSands Test Facility), Las Vegas, Lordsburg, Los Alamos (National Laboratory), Moriarty, Raton, Red River, Rio Rancho, Roswell, Ruidoso, Santa Fe, Santa Teresa, Shiprock, (Four Corners National Monument), Silver City, Socorro (New Mexico Institute of Mining & Technology), Sunspot (Apache Point & National Solar Observatories), Taos, Truth or Consequences (Spaceport America - Upham), Tucumcari, White Sands (Missile Range; Monument), Zuni. As well as: Amarillo, El Paso (Fort Bliss), Lubbock, Midland/Odessa - Texas; Cortez (Mesa Verde), Durango, Telluride - Colorado. Canyonlands, Moab; Glen Canyon Dam; Monument Valley, Utah. Alpine, Bisbee, Douglas, Eagar, Flagstaff, Grand Canyon, Holbrook, Phoenix, Prescott, Tucson, Springerville, Arizona